Northwoods Muskies Remembers a True Muskyman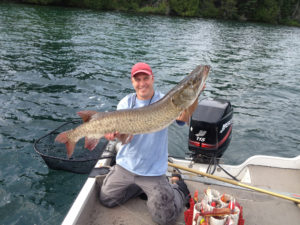 The "Musky World" lost one of its best proponents this past week when Dave Dawson from The Muskellunge Club of Wisconsin passed away from a massive heart attack. Dave was many things, including a great husband and father,  a true friend, a positive role model, and a really good musky fisherman.

According to Mike Sasse, our chapter's founder, "While Dave did most of his Musky related work in Southeast Wisconsin, he was also instrumental in persuading me to start our club here in Minocqua. Dave was with me at the Milwaukee Musky Expo when I was approached by the folks at the Muskies Inc booth to start a new Chapter in Minocqua. Dave convinced me that even though I was new to Minocqua and to Muskies Inc, that I could find the right people to help me get a Chapter up and going."
History says Dave was right as we were the fastest Chapter in all of Muskies Inc to reach 100+ members.
Dave served on the Boards of the Milwaukee Chapter of Muskies Inc and the Muskellunge Club of Wisconsin. Dave was a key proponent in getting muskies stocked in Lake Okauchee and Pewaukee Lake in Southeast Wisconsin.
Most recently he served as the Secretary of MCW and as such he was responsible for creating their Newsletter and in typical Dave fashion he published one of the finest newsletters any musky club has had the fortune of sending to its membership. Dave also had multiple articles published in Muskies Inc magazine including one recently titled "Measuring Musky Fishing Success".
You see Dave wasn't your typical musky fisherman. He was the kind of person who also saw the good in things even when most of us would say there wasn't much good to be seen. And everything that Dave saw of interest while Musky fishing we wrote down in a journal, every follow, every hit, every catch every weather change and anything that he thought might interest him or someone else later. Dave was planning on writing a book with all the stories he had collected over the years, many of them quite funny or unbelievable. Dave also created D2 Bucktails where he manufactured his own musky lures which he used to catch many nice fish including a good number over 49"… the 50"+ muskie however eluded Dave; although that never bothered him, whether he caught  multiple muskies or zero Dave always found something good in every fishing trip.
The Musky World was better for having Dave Dawson in it and our Chapter would not be here without Dave's encouragement. We hope you rest in peace Dave Dawson and Thank You for all the good you left behind.